Question Answer for WordPress
Plugin Features Schema.org support. Archive page via shortcode. Front-end question submission form via shortcode. Awesome account page via shortcode. Ton of filter & action hook to extend. Custom login and register form via shortcode. Archive page features Responsive archive page for questions. Featured question at top with highlighted background. Question solved marker. Search & filtering […]
Choose License
Join as Member
Access to all plugins and future plugins.
50 domain license for each plugin.
Unlimited download as long as your membership run active.
Automatic plugin update as long as your membership run active.
Free 24/7 support as long as your membership run active.
$19 monthly and $149 yearly.
Cancel any time.
Join to Access
Plugin Features
Schema.org support.
Archive page via shortcode.
Front-end question submission form via shortcode.
Awesome account page via shortcode.
Ton of filter & action hook to extend.
Custom login and register form via shortcode.
Archive page features
Responsive archive page for questions.
Featured question at top with highlighted background.
Question solved marker.
Search & filtering by user slug, category, keywords, question status.
Ajax keyword suggestion list.
Search by question categories.
Different sorting by title, comment count, latest & date.
Display view count for questions.
Display answers count.
Display up vote & down vote buttons.
Breadcrumb navigation & menu.
Add question button at top right.
User thumbnail.
Pagination.
Single question page features
Breadcrumb navigation & menu.
Admin can change post status.
User thumbnail, role display.
Question category, posting date & time, total answer count display.
Admin and question poster can make the question as solved or un-solved.
Any user can subscribe the question to gey notifications.
Admin can marked as featured question.
Question comments.
Subscriber total count & list with thumbnail display.
WP Editor for answer posting.
Private or public answer. private answer only can display admin and question poster and answer poster.
Answer sorting by voted, top voted & older.
Best answer, admin & question poster can choose best answer. best answer can be remove future and choose another.
Answer up vote & down vote.
Answer comments. ajax based submission.
Flag for comments to warn user.
Question submission for features
Based on filter hook & easy to extend for add custom input fields.
Default input fields are title, content, status, categories, tags.
reCAPTCHA on question submission.
Add-ons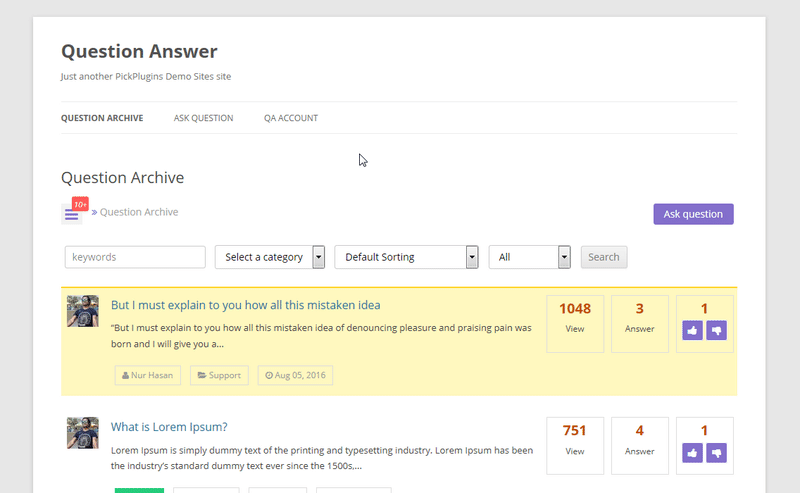 Question Archive Page
QA plugin has clean archive via shortcode, you can display anywhere under page content or custom template via shortcode. each element on archive page is filterable so you can customize easily and add your own item by filter hook. Archive also has search and filtering by category, sorting, question status and etc
Notification
QA has builtin notification so almost every activity user will get notified for their actions, user can mark notification as read so these will not appear on notification list, there is also notification count for un-read notifications, user can check manually by clicking "Refresh" button.
Question Submit Form
Full featured question submit form, user can submit privet question, can select category and tags selection. there is also pre-check list at the top when some one start typing the question title there will be a list suggestion display if some one already posted same questions.
Featured Question
Archive page also displaying featured question with highlighted background, you can change the background color form settings page.
Clients Testimonials
Read our clients testimonial, all are collected from wordpress.org plugin reviews section, picked manually.
I use the Premium Version of his Tool. You can customize the output perfectly. Forget any other Woocommerce Product Slider. This tool rocks. Thanks to Nur Hasan - great job.
Freidhelm
Great job! This plugin works perfect! Thank you.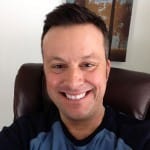 Davidzupec
I had a problem with a missing 'offset' variable. It took Hasan a couple of hours to make an update to the plugin. I am very happy with the plugin and the service.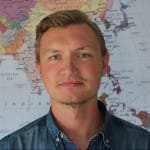 Kasparottosen
Great plug that fits our needs. Simple but the style is very customizable via css. Great support too.
Normdebra
Video Tutorials
Here some quick video tutorisla may help you to get started.