Description
Your company or agency will get a response in online when it will be crystal clear to all the people on the web. When people can show the members with their skillset and bio, they will find it more reliable. They will put their trust on your team easily. But putting all member's skillset with their short bio and other necessary description is not easy. A simple plugin will solve your problem. Pack plugin presents you Team – Responsive Team Showcase Plugin for WordPress. This plugin developed nicely with some awesome features. Simply you cant ignore this plugin as a showcase for your team members. This is fully responsive and retina ready.
Plugin Features – Team Showcase Plugin
** Pro marker features only available in premium version.
Unlimited team's anywhere.

Pro

30+ Ready Different Skin.
Fully responsive and mobile ready.
Custom number of member query.
Team post thumbnail images size selection.
Team grid items custom width.
Team grid thumbnail custom height.
Team grid items text align.
Background image for team area.
Team member name font color.
Team member name font size.
Team member position font color.
Member position font size & color.
 Team member bio font color.
Team member bio font size.
Enable Masonry grid for any themes.
Grid items text align.
Member bio font size.

Pro

Display from member categories(group).

Pro

Display by member id's.

Pro

Custom icons for custom social links.

Pro

 Clickable link to custom post team members.

Pro

Clickable link to custom link to team members.

Pro

Popup profile box on click member thumbnail.

Pro

Popup Slider on click member.

Pro

Different image for Popup.

Pro

Custom height & width for social icons.
Member bio full or excerpt selection.
Custom number of excerpt length.
Custom "read more" text for excerpt.
Custom CSS for each team grid.
Drag & Drop sorting for custom social icons.

Pro

Social link for mobile/telephone numbers.
4 different ready style for social icons.
Pagination support.
Query order.
Query order by.
Custom slug for team members

Pro

Mixitup style team grid.

Pro

Custom pagination for Mixitup.

Pro

Default active filter for Mixitup.

Pro

Skill bars.

Pro

  Short-code support for team member content.

Pro

  Popup Slider.
Add your own social links & icons
If you and your team members have many social sites like Facebook, Instagram etc you can add those links and proper icon by this feature of our meet the team plugin. This will help you to arrange all the social site in one place.
Skill display
Each member is skilled on a specific subject. some members are skilled on various subject. If a visitor can see the percentage of their skills. it will be so joyful for them. So in our team showcase plugin, we added skill display feature. By this feature, skills will be displayed with percentage bar.
Display Full or Excerpt for Member Bio
This feature is currently too trendy in meet the team plugin. You can personalize your bio as u like. You can custom publish your member's bio according to your need.
Link to member
By this feature, you can specifically link a member to any custom post or in any project.  This will highlight them properly in a certain category.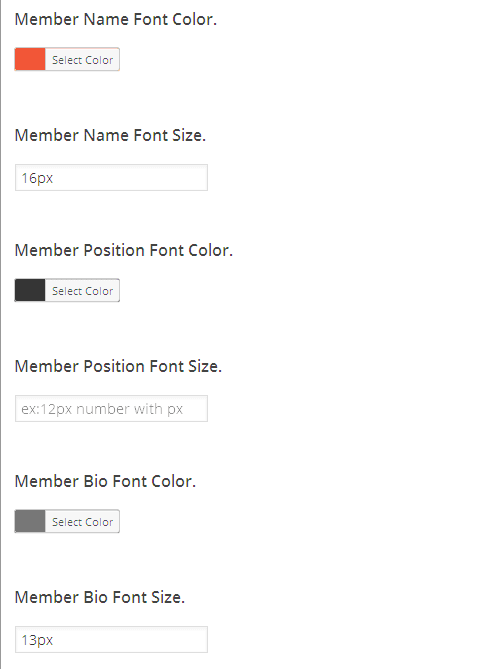 Control your own color and font sizes
You can set the font size, color and font pack as you like. This will beautify your team showcase. Its an eye catchy and attractive feature for any meet the team plugin.
Custom Social Icon Size & Style
You can customize the social icon size and style. You can add a various type of shape according to your desire. Also, you can set the size.
Sort able grid items
This Feature is unique. You will find it only in our team showcase plugin. By using this awesome feature you can sort the grid item however you want. In a grid, you can custom each and every single item separately.