Woocommerce Products Slider
$39.00 – $199.00
Product Description
Woocommerce Product Slider is best for displaying beautiful carousel style slider. easy customizable and use via shortcode anywhere under page content or your theme php files. it has widget support so you can display on sidebar and footer widget area easily. Its also support display featured marker, sale marker to get visitor attraction. Pre-made ribbon can get more attractive for slider, you can also add your own custom ribbons.
Plugin Features – Woocommerce Product Slider
Fully responsive and mobile ready.
Unlimited slider anywhere.
Query post from latest post, Older Published, Featured Items, by Only Year, by Month of a year.
Custom number of slider items to query.
Custom number of Slider column number.
Custom number of Slider column number for Mobile device.
Slider auto play.
Slider stop on hover.
Slider touch drag.
Slider mouse drag.
Slider items thumbnail images size selection.

Pro

Items thumbnail link's to category or product.
Slider items thumbnail custom height.
Featured product marker.
Ribbons for slider.
Background Image for slider area.
Items category display/hide.
Items featured marker display
Items Add to cart button default/custom style.
Items Add to cart button Display
Add to cart Background Color.
Add to cart Text Color.
Items title display/hide
Items title color.
Items title font Size.
Items price color.
Items price Font Size.
Slider pagination background color.
Slider Pagination Text Color.
Default image for empty thumbnail.

Pro

Total 29 Different Themes.
Custom Slider Column Number in Mobile.
Slider Items Title Color.

Pro

Display from On Sale Product.

Pro

Display Best seller product.

Pro

Display top rated product.

Pro

Display from Product Taxonomy & Categories.

Pro

Display by Product id.

Pro

Display by SKU.

Pro

Display product from Recently viewed.

Pro

Category Slider(only one theme for category slider).
Slider Navigation position middle.

Pro

Filter hook for slider items.
Hide out of stock product

Pro

  Product slider dynamically on archive pages.

Pro

  Featured product at first.

Pro

  Meta query.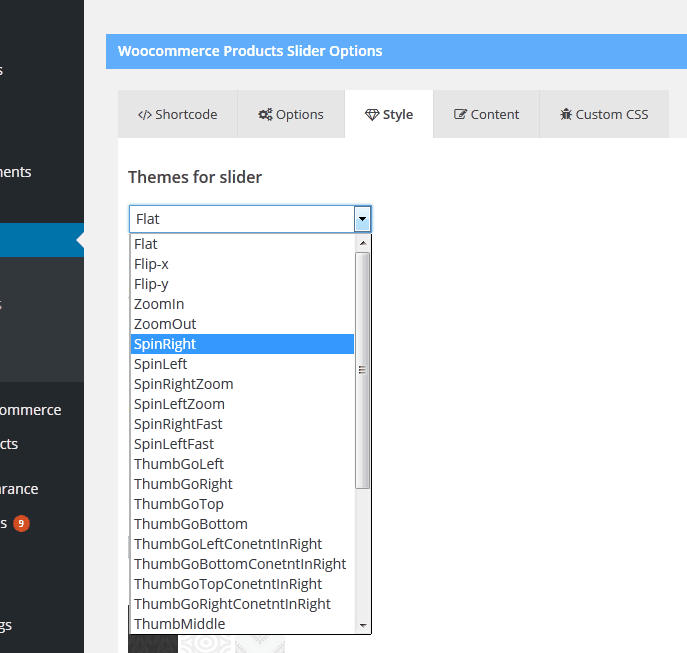 30+ Total Different Ready Themes.
Total 30+ different themes for your product slider anytime you can select themes.
Filter Slider Content.
Display slider product by filter many ways Display from Latest Published, Older Published, Featured Product, On Sale Product, Best Selling Product, Top Rated Product, Product Taxonomy & Categories, Product id and etc
20 Ready Ribbons.
Total 20 different ribbons for your product slider you can add your own ribbons by inserting ribbon url from settings page.
Add your own Color & Font size
Customize your slider by your own color and font size for slider items title, price and add to cart buttons.
Clients reviews
We request only satisfied clients for submit reviews at wordpress.org plugin repository, the result was amazing we got some inspiration from our clients.
Meta Query
Display product based on meta query.
Changelog
Version

2.2.13

Update

23/03/2017

display only discounted.

Version

2.2.12

Update

02/02/2017

On sale query improvement.

Version

2.2.11

Add

02/02/2017

query arguments filterable..

Update

2.2.10

Update

30/01/2017

wcps settigns update.

Version

2.2.9

Fix

04/01/2017

flip-x & flip-y theme on safari, iPad device.

Version

2.2.8

Add

20/12/2016

Thumbnail link to primary link.

Version

2.2.7

Add

13/11/2016

Featured product at first.

Version

2.2.6

Add

13/11/2016

Meta query added.

Update

13/11/2016

Security issue update.

Version

2.2.5

Fix

26/08/2016

Product query issue fixed.

Version

2.2.4

Add

27/07/2016

New post query orderby 'post__in'

Version

2.2.2

Fix

15/06/2016

Slider autplay issue fixed

Version

2.2.1

Update

08/06/2016

re-write plugin code.

Version

2.2.0

Update

01/06/2016

Update owl js & css files version 2.0.1 aseets.

Version

2.1.17

Update

25/03/2016

Update owl js & css files.

Version

2.1.16

Add

22/03/2016

Product slider dynamically on archive pages.

Version

2.1.15

Fix

19/03/2016

Ribbons none missing issue fixed.

Version

2.1.14

Add

08/03/2016

Add more themes

Version

2.1.13

Add

08/03/2016

Add more themes

Version

2.1.12

Add

26/02/2016

Product ids comma separate.

Version

2.1.11

Add

01/02/2016

Custom padding for container.

Add

01/02/2016

Query Product by SKU.

Version

2.1.10

Add

30/01/2016

Display product from Recently viewed.

Version

2.1.9

Fix

09/01/2016

File missing issue fixed.

Version

2.1.8

Add

26/11/2015

Hide out of stock product.

Version

2.1.7

Add

27/10/2015

Translation for Finnish (Suomi).

Version

2.1.6

Add

27/10/2015

Translation ready.

Version

2.1.5

Fix

17/10/2015

SSL issue fixed.

Version

2.1.4

Add

11/09/2015

Container class for mobile.

Add

11/09/2015

Query orderBy parameter.

Version

2.1.3

Add

10/09/2015

Slider navigaion position middle fixed.

Version

2.1.2

Add

10/09/2015

Star ratting for products.

Version

2.1.1

Update

05/07/2015

Rewrite plugin made with OOP.

Add

05/07/2015

Addons support for ctreating theme for slider.

Add

05/07/2015

Filter slider items with filter hook.

Version

2.1.0

Add

25/05/2015

Optimize site loading by remove extra slider themes.

Version

2.1

Update

25/04/2015

Remove all previous themes and added new 10 ready theme.

Add

25/04/2015

Add featured icon.

Add

25/04/2015

Add sale icon.

Version

2.0

Add

22/04/2015

Slider Navigation position middle.

Fix

22/04/2015

Some minor issue fixed.

Version

1.10

Add

09/03/2015

Category slider.

Version

1.9

Add

09/03/2015

New theme flip-x.

Add

09/03/2015

New theme flip-y.

Fix

09/03/2015

Some minor css issue.

Version

1.8

Add

15/02/2015

Display Best seller product.

Add

15/02/2015

Display top rated product.

Add

15/02/2015

Default or custom add to cart style selection.

Version

1.7

Add

05/02/2015

Hide/Display Slider Items title.

Add

05/02/2015

Hide/Display Slider Items price.

Add

05/02/2015

Hide/Display Slider Items add to cart button.

Add

05/02/2015

Hide/Display Slider Items featured marker.

Add

05/02/2015

Hide/Display product category.

Version

1.6

Update

31/01/2015

Default empty thumbnail.

Fix

31/01/2015

Column number in desktop.

Version

1.5

Removed

05/01/2015

Remove Help & upgrade page.

Update

05/01/2015

Update setting page.

Add

05/01/2015

Slider items price format.

Add

05/01/2015

Slider column number in Mobile.

Version

1.4

Add

08/11/2014

Added query to display on sale product.

Version

1.3

Fix

08/11/2014

php bug.

Version

1.2

Fix

26/08/2014

javascripts conflit fixed.

Fix

26/08/2014

query post error fixed.

Version

1.1

Update

24/08/2014

Update plugin description.

Update

24/08/2014

Update Live Demo.

Add

24/08/2014

Added Video Tutorial.

Version

1.0

22/08/2014

Initial release.